Michigan Values Life
Petition Drive to Prohibit Dismemberment Abortion
Updated January 3, 2020
The Michigan Constitution allows the people of the state to initiate legislation through a petition. For a Citizen's Initiative to be brought successfully before the state Legislature, the effort must obtain the signatures of a significant number of registered voters—at least eight percent of the total votes cast in the previous gubernatorial election—over a period of 180 days or less.
During the second half of 2019, a coalition of pro-life organizations across the state gathered signatures for legislation to end dismemberment abortion. The Michigan Values Life petition was organized by Michigan Right to Life and supported by Michigan Catholic Conference. The effort needed 340,047 valid signatures to bring the measure forward to the Michigan Legislature. At the petition's conclusion, the coalition gathered and submitted 379,418 to the Board of State Canvassers on December 23, 2019. If the signatures are validated by the Board and the measure approved by the Legislature, the dismemberment abortion procedure would be prohibited in this state. Dismemberment abortion is a particularly gruesome second trimester abortion procedure. It requires an unborn child to be dismembered limb by limb inside the mother's womb.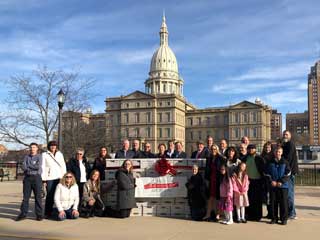 In summary, the measure is:
An initiative petition to amend section 90h of the Michigan Penal Code, 1931 PA 328, MCL 750.90h, to define "dismemberment abortion;" to prohibit a person from performing a dismemberment abortion unless necessary to save a pregnant woman whose life is endangered by a physical disorder, illness or injury; to authorize the legislature to intervene in a lawsuit challenging the constitutionality of this proposal; to allow the spouse of a woman or parent of a minor who obtained a dismemberment abortion to sue for damages; and to prescribe criminal penalties for an individual who knowingly performs an abortion in violation of the proposed initiated law.
If the signatures are verified, what is next for the petition effort?
Once the necessary number of signatures are validated by the Board of State Canvassers, the Legislature has 40 days either to approve, reject, or not vote on the petitions. If a simple majority in both chambers approves the bill, it becomes law without needing the governor's signature. Governor Gretchen Whitmer's promise to veto any pro-life legislation has been the impetus to pursue this citizen initiated legislative petition drive. Michigan Catholic Conference is hopeful that the measure will be approved within the 40-day window. However, if either chamber fails to vote or votes "no," the issue will be placed before the people as a ballot question in 2020.
Thank you to all who have participated in the signature gathering effort! Your support is still needed—stay tuned for further updates and opportunities for action.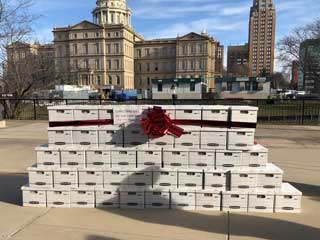 Resources
Recursos en Español