Michigan Catholic Conference 403(b) Retirement Savings Plan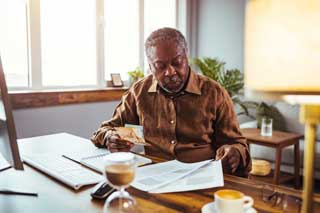 Update: Prudential Retirement has been acquired by Empower, the second-largest retirement services provider in the United States. It will take several months for the transition from Prudential to Empower to complete. During the transition period, you will continue to see the name "Prudential" on forms for the MCC 403(b) Retirement Savings Plan. You will see the Empower logo when you access your account and on 403(b) communications.
For those who are already participating in the MCC 403(b) Retirement Savings Plan, you will receive communications on the transition. In the meantime, you can continue with the same
Website and login credentials
Online account access and web-based transactions
Customer support phone number
Mobile app
Retirement security is one of the most critical issues Americans face today. We are living longer than ever and most Americans are not saving enough to retire. You don't need to do it alone.
Michigan Catholic Conference offers a 403(b) Retirement Savings Plan to help you achieve your retirement savings goals through:
Pre-tax and Roth contributions that are automatically withheld through payroll deductions and sent directly to your 403(b) account,
The ability to elect from a series of general-investment options or choose specific funds in which to invest so you can grow your money your way,
Calculators to quantify the cost of waiting to invest, your net worth, your Social Security benefits, and more, and
Webinars to help you get more bang from your retirement savings dollar.
For more information, please contact your Diocesan Fiscal Manager, Empower at (877) 778-2100, or the Michigan Catholic Conference Benefits Department at (800) 395-5565 or via email at benefits@micatholic.org.
Eligibility
All active employees of participating units are eligible to enroll, regardless of number of hours worked. There is no waiting period and anyone can sign up at any time.
By registering on the Empower website you may enroll in, change deferral elections, select investment options, and name a beneficiary or beneficiaries for your 403(b) benefit.
Annual Limits
Limits include pre-tax plus Roth contributions.
| Plan Year | Annual Contribution Limit | Additional Catch-Up Contribution | Total Annual Contribution |
| --- | --- | --- | --- |
| 2023 | $22,500 | $7,500 | $30,000 |
| 2022 | $20,500 | $6,500 | $27,000 |
How to Enroll
Enrolling online is easy. You can enroll online or by telephone:
Visit www.prudential.com/online/retirement and select the "Register Now" option, or call (877) 778-2100.
If online, follow the prompts to create your Personal Identification Number (PIN) and then complete your enrollment.
If you are actively employed at a participating unit and working less than 20 hours per week, please contact Mary Beth Morgan, MCC Employee Benefits Manager, before enrolling with Empower.
In addition to personal information, you will need a Plan Number, which is 008147 and a Sub Plan Number:
| Employer | Sub Plan Number |
| --- | --- |
| Archdiocese of Detroit | 000001 |
| Diocese of Grand Rapids | 000002 |
| Diocese of Saginaw | 000003 |
| Diocese of Marquette | 000004 |
| Diocese of Lansing | 000005 |
| Michigan Catholic Conference | 000006 |
| Diocese of Gaylord | 000007 |
| Diocese of Kalamazoo | 000008 |
| Non-Diocesan | 000009 |
Be sure to complete your enrollment and beneficiary designation on line. If you need assistance with this, please contact Empower.
If you want to talk with someone:
Empower can help you to enroll, with service requests or answer any questions you have regarding the plan.
Call Empower's® Automated Telephone System: (877) 778-2100
Hours: Monday through Friday 8 a.m. to 9 p.m. Eastern Time
When prompted to say what you want, you can wait until the operator goes through the options and then say "It's something else" to get a live person.
If you need investment advice:
Empower's Retirement Counselors are available to provide you with personal assistance. Simply call (877) 778-2100 and say "Retirement Counselor" at the prompt.
Retirement Counselors' Hours: Monday through Friday, 8 a.m. to 6 p.m. Eastern time.
Enrollment and Plan Information
Forms
Calculators
Financial Health
Regardless of age, retirement planning is one of the most important issues facing Americans today. While the MCC established the Lay Employees' Retirement Plan in 1966 to provide a retirement program for lay employees of participating parishes and schools, the Conference also encourages employees to investigate other options that will help plan for retirement.
According to the Employee Benefit Research Institute, 43% of American workers have less than $10,000 in retirement savings, and yet only 46% of Americans have tried to calculate what should be saved for retirement.
Here are some resources that may help plan for retirement.
Since January 1, 2009, Empower has administered the 403(b) plan for all qualifying Catholic entities and eligible employees. Empower has a long tradition of proven experience, exceptional service, and excellence in managing retirement programs. They have also provided the following resources to help plan for retirement.