Lansing Update: Proposal 3 Ordered onto Ballot; MCC & Pro-Life Coalition Prepared to Defeat It
Posted September 9, 2022
In this update:
Proposal 3 Ordered onto Ballot; MCC & Pro-Life Coalition Prepared to Defeat It
The Michigan Supreme Court this week ordered the placement of the abortion amendment onto the November ballot, making official the campaign to urge Michiganders to vote no on what will be called Proposal 3.
The state high court ordered the state Board of Canvassers to put Proposal 3 on the ballot, and the board complied with that order today. The Canvassers had previously deadlocked on placing it on the ballot after a challenge called attention to the lack of spacing between many of the words in the language itself.
Ultimately, the court rejected the challenge to Proposal 3 that was brought by Citizens to Support MI Women & Children, the campaign backed by Michigan Catholic Conference (MCC) dedicated to defeating Proposal 3.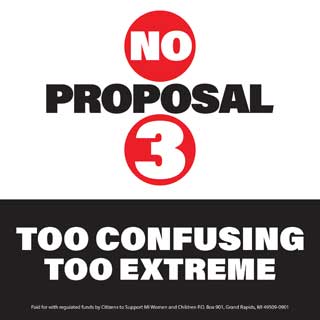 "It falls to voters now to reject this mistake-ridden, extreme proposal on Election Day. We are confident that a majority will say No to Proposal 3," said Christen Pollo, spokesperson for the No on Proposal 3 campaign.
Pollo added the proposal, if approved, "authorizes abortions up until the moment of birth, while sweeping away every law designed to impose common sense limits on abortions, such as parental consent, and health and safety regulations on abortion clinics. This would become part of our constitution permanently, and no matter how much it endangered the health and safety of our children, we'd be stuck with it."
MCC, along with the No on Proposal 3 campaign, has been preparing and working for months toward defeating this amendment. The campaign launched its first television advertisement last week.
To volunteer or assist the campaign in its efforts to reach all Michiganders, visit the coalition website to sign up.
The campaign has released this half-page flyer for any one to use to promote voting no on Proposal 3, and MCC materials for Catholic parishes and schools are in the works and will be available soon.
Judge Rules Against State Law Protecting Unborn
A state judge has permanently blocked Michigan's law protecting the unborn from going into effect, although the ruling likely won't be the last word on the state ban on abortion.
Judge Elizabeth Gleicher — who has previously donated to and worked on behalf of Planned Parenthood — issued a permanent injunction on the abortion law that prohibits abortion except for saving the mother's life. The lawsuit was filed by Planned Parenthood.
The law had been temporarily blocked from implementation due to a ruling from Judge Gleicher issued before the U.S. Supreme Court struck down Roe v. Wade and returned abortion regulation to the states.
The ruling comes despite MCC and Right to Life (RTL) of Michigan's continuous legal efforts to defend the unborn of this state. The Planned Parenthood lawsuit was filed against the Attorney General, who has neglected to defend the state's existing abortion ban.
Only the Republican-led House and Senate have joined to intervene as defendants in the case, while MCC and RTL's efforts to join as defendants has repeatedly been denied by the courts.
In response to Judge Gleicher's ruling this week, Alliance Defending Freedom, the law firm representing MCC and RTL, issued the following statement:
"Every human life is worthy of protection, but the Michigan Court of Claims just ignored Michigan constitutional history by denying Michiganders the opportunity to protect and value unborn lives. This decision runs afoul of Dobbs, which gave power back to the state's democratic process, not judges who seek to impose their own policy preferences on all Michigan citizens. Alliance Defending Freedom, on behalf of Michigan Right to Life and Michigan Catholic Conference are committed to defending every life in Michigan, including those who are not yet born."
Catholics Urged to Oppose Federal Proposals Harming Marriage, Religious Liberty
The U.S. bishops are calling Catholics to speak out on two federal issues related to marriage and religious liberty.
Catholics are being urged to contact their U.S. Senate members to tell them to vote no on the so-called "Respect for Marriage Act." This proposed bill would block states from restoring the authentic understanding of marriage between one man and one woman if given the opportunity by the U.S. Supreme Court, according to the U.S. Conference of Catholic Bishops (USCCB).
It would officially codify so-called "same-sex marriage" into U.S. law after the U.S. Supreme Court upended the traditional meaning of marriage in 2015. Plus, the bill could require the federal government to honor polygamous "marriages" in states that move to allow it.
The legislation could further threaten the conscience and religious freedom of individuals such as wedding vendors, as well as foster care and other social service providers, who seek to serve their communities without being punished for their longstanding beliefs, the USCCB said.
To send a pre-written message to Michigan's Senate delegation, click or tap here. For more information, see this USCCB letter sent to the U.S. Senate.
In a separate issue, the USCCB is also urging Catholics to oppose a proposed new federal rule that could punish schools for distinguishing between boys and girls in places like locker rooms and dorms.
The U.S. Department of Education is proposing a new rule that would change the concept of "discrimination on the basis of sex" to include sexual orientation and gender identity. While the rule would keep an existing exemption for religious schools, teachers and students of faith in public schools would have no such protections, according to the USCCB.
The proposed regulation would also include "termination of pregnancy," which the USCCB believes could be used to impose requirements that promote abortion.
The USCCB is inviting Catholics to reach out to the U.S. Department of Education to clarify that "discrimination on the basis of sex" is not an abortion mandate, and that schools must have the freedom to continue to recognize a distinction between male and female in their activities and facilities.
To send a pre-written message to that effect, click or tap here.