News Release: Response to Gov. Whitmer's Legal Brief in Nonpublic School Case
Gov. Whitmer Relies on Archaic, Discriminatory Policy to Deny Health and Safety Fairness to All Michigan Students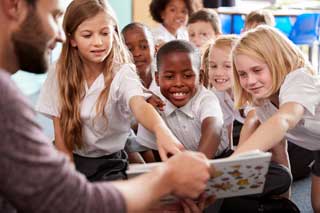 FOR IMMEDIATE RELEASE
December 6, 2019
(Lansing, Mich.) — Governor Gretchen Whitmer and Superintendent of Public Instruction Dr. Michael Rice are mischaracterizing provisions of the Michigan Constitution to prevent the state from reimbursing nonpublic schools for complying with mandated health and safety requirements, Michigan Catholic Conference stated today.
Late this afternoon, Governor Whitmer and Superintendent Dr. Rice announced their legal brief in response to an important case before the Michigan Supreme Court that will decide if all schools in Michigan, public and nonpublic, will be reimbursed for costs incurred for complying with state-mandated health and safety regulations.
"The days are becoming numbered for public officials to rely on a discriminatory provision of the constitution that treats nonpublic schools as second-class institutions," said David Maluchnik, Michigan Catholic Conference Vice President for Communications. "The state has an obligation to ensure all children are educated in healthy and safe environments. It's regrettable that some continue to rely on James G. Blaine's bigoted policies from the 19th Century to prevent equal treatment of nonpublic schools."
Michigan Catholic Conference (MCC) is the public policy voice of the Catholic Church in Michigan. For the past three legislative sessions, MCC has supported an appropriation passed by the legislature to reimburse nonpublic schools for expenses related to health and safety requirements, such as immunization records, fire drills, and attendance reports. "Most nonpublic schools operate on a shoestring budget, they receive no state funding, and all rely on donations and tuition for their entire fiscal year," Maluchnik said. "These appropriated funds are not to be used for educational purposes; they are strictly intended to ensure that the state treats all school children in Michigan equitably. The Court of Appeals got it right and should be affirmed."
The Michigan Supreme Court accepted the case after public school advocacy groups appealed a decision from the Michigan Court of Appeals that found the appropriation constitutional.
Michigan Catholic Conference is the official public policy voice of the Catholic Church in this state.
-- 30 --