The Word from Lansing: Religious Tolerance and the Freedom to Serve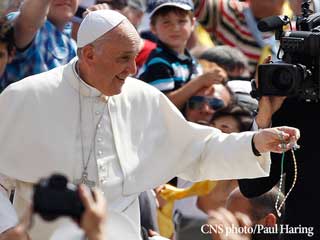 Posted September 18, 2015
In a little over a week, Pope Francis is expected to speak about Catholics living out their values in the public square. Standing in Philadelphia's Independence Hall, at the same lectern President Abraham Lincoln used to deliver the Gettysburg Address, the location of Pope Francis' speech is significant considering the city began as a site of religious tolerance.
Allowing institutions and individuals of all faiths to express their beliefs openly has helped communities develop, bringing together diverse perspectives that seek to advance the common good. In Philadelphia, the Quakers, Baptists, Mennonites, Jews, and Catholics all uniquely contributed to the city's formation and civic debate. The free exercise of religion, or the ability to live one's life according to his or her moral beliefs, has long been a core value for both Americans and Catholics.
Pope Francis's message on the freedom of the Catholic Church to serve the public comes at a critical time. In late June, the U.S. Supreme Court decision in Obergefell v. Hodges redefined marriage in the United States. With this ruling, the court significantly altered the contemporary understanding of spouses and family, at the same time impacting hundreds of existing state and federal laws. While the Church remains committed to her teaching about marriage as the union of one man and one woman, the Supreme Court decision has created conditions for conflict between faith institutions and individual rights.
The full impact of the Court's ruling on the practices of religious organizations is still unclear. Some have commented that religious universities may risk losing their tax-exempt status if they do not adopt the new definition of marriage. Charitable agencies may be asked to choose between their faith mission and the services they provide. Instead of promoting tolerance and recognizing the public good religious institutions offer, society is leaning toward marginalizing institutions based on their beliefs about marriage.
Religious organizations have been active in community life for hundreds of years. Motivated by their faith-based mission, Catholic organizations provided assistance to millions of individuals across the state last year. Michigan's Catholic schools educated 53,364 students, Catholic social services agencies assisted 931,554 individuals, and Catholic hospitals and health care centers served 6,801,015 patients. Additionally, 640 parishes — and their parishioners — provided vital spiritual, financial, and material support to the community. The impact of Michigan's approximately 2 million Catholics, 20% of the state's total population, is deeply engrained in society.
The Catholic Church's involvement in Michigan, along with other faith-based and secular organizations, reveals the value of tolerance and diversity in the state's history. In order to address issues such as human trafficking, adoption and foster care, poverty assistance, and a number of other services for the vulnerable, the state benefits from having a variety of organizations — including faith-based — that can reach out to those in need, recruit volunteers, and collect support in different ways.
Through its service to others, regardless of religious identity, the Church promotes a positive vision for the flourishing of every human person. She recognizes that all life deserves a chance to be lived, that marriage unites a man and woman in a unique way, that all children deserve a quality education, and that every individual is worthy of dignity and respect. These truths enhance the public square and promote the common good.
Instead of further restricting institutions of faith, a collective focus must be placed on ways to protect the good work of all agencies serving those on the peripheries. May society continue to learn from the example of Pope Francis in Philadelphia and embrace the benefits of diversity and religious collaboration.