The Word from Lansing: Public Transportation and Communities in Need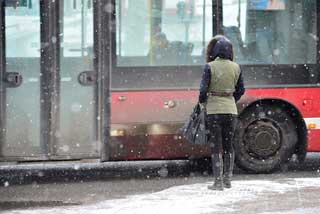 Posted June 24, 2016
For most people, daily routines revolve around the ability to travel. Typically, decisions about transportation are relatively easy, simply requiring a person to jump in the car or walk down the street. For others, especially those without a car or with limited access to public transit, travel decisions are much more difficult. Lack of transportation can detrimentally impact one's ability to access employment, health care services, healthy food, and education.
Across the state, the Michigan Department of Transportation offers some level of transportation service in every county. The Department offered almost 89 million public transit rides in the 2015 Fiscal Year (October 2014-September 2015), including 4.3 million rides for elderly passengers and 8.4 million rides for passengers with disabilities. Communities that develop quality public transportation help to strengthen the range of employment options for Michiganders, especially for those who are vulnerable. Employment plays a key role for families to provide for themselves and their dependents. It helps to ensure a dignified life and provides a greater opportunity for individuals to engage in the world around them.
As a 2013 Brookings Institute report shows, some areas of Michigan have struggled to link transit access to job opportunities. In the greater Detroit area, for example, seventy-seven percent of the region's jobs are outside of the downtown area by at least ten miles. Without flexibility or additional transit services, individuals become unable to travel or resort to spending a greater amount of time away from their families while they make the journey to and from work.
Health care is another area of life that is strongly connected to transportation. Recent reports in the Journal of Community Health have indicated that at least twenty-five percent of low income patients are likely to miss or delay health appointments because of issues related to transportation. Similarly, those with disabilities are twice as likely as those without to have inadequate transportation, according to the Centers for Disease Control. As a result, many go without health care. The needs of disabled and elderly individuals must be considered when evaluating the effectiveness of any transit system.
The Catechism of the Catholic Church teaches that all people should "be concerned to create and support institutions that improve the conditions of human life" (1926). Providing opportunities for residents to participate in community discussions, especially residents who are low-income, will help make those places more just, livable, and responsive to the needs of all. Public transportation infrastructure and route decisions are part of this discussion, as they can help individuals connect to the community and can provide significant cost savings for families. According to the American Public Transit Association, households who use public transportation save more than $8,000 a year on average, which allows struggling families to use that money in other areas.
To learn more about transportation and its impact on marginalized populations, the environment, and community growth, read Michigan Catholic Conference's recent FOCUS publication at http://goo.gl/z0hvnZ.