Lansing Update:

October 17, 2014
Governor Signs Human Trafficking Bills Into Law
On Thursday, October 16, Governor Rick Snyder signed twenty-one human trafficking bills into law. While continued work remains to raise awareness and to increase services for victims throughout the state, this new legislation will help Michigan address human trafficking in a strong, victim-centered way. Michigan Catholic Conference (MCC), who was in attendance at the bill signing, released the following statement after the bills were signed into law: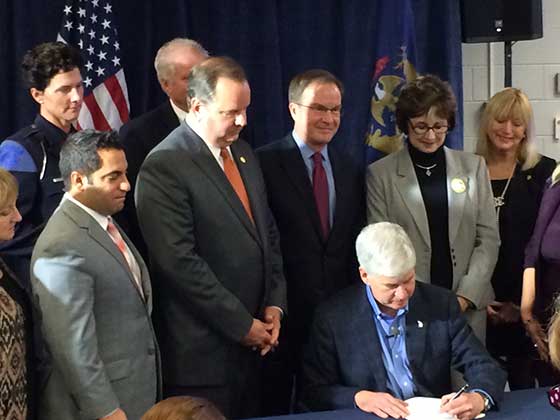 "Human trafficking is an affront to the dignity of the human person, and vulnerable women, men and children deserve greater protection from its harm. The bills signed today address this very real problem from many angles, starting with identifying survivors, ensuring they are not treated as criminals, and connecting them quickly with necessary resources and services. This was a collaborative effort all the way through the legislative process, and for that, credit is due to members on both sides of the aisle, in both chambers and across the executive branch of state government. Michigan Catholic Conference is thankful to Governor Rick Snyder, Attorney General Bill Schuette, Senator Judy Emmons, Representative Kurt Heise and the many Democrats and Republicans that helped to raise awareness about human trafficking and the necessary measures to prevent its occurrence in Michigan."
To read a brief summary of what each bill in the package does, click here. For pictures from the bill signing, visit MCC's Facebook page at www.facebook.com/MichiganCatholicConference
Governor Signs "Right to Try" Legislation
On Friday, October 17, Governor Rick Snyder signed into law Senate Bill 991, enacting the "Right to Try Act." The act provides terminally ill patients access to potentially life-saving medications, which are not yet fully approved by the federal Food and Drug Administration (FDA). This measure gives hope to those with a terminal illness, when they have already exhausted other approved treatment options. As mentioned in a previous Lansing Update, Michigan Catholic Conference successfully worked with the sponsor of the bill to ensure its language would protect vulnerable people and contain a strong informed consent provision. The governor also signed House Bill 5649, which is a companion measure that will prohibit disciplinary action against professional licenses held by health care providers and health facilities that recommend or provide treatment as authorized by the "Right to Try Act." Michigan is now the fourth state to enact this legislation, following Colorado, Missouri, and Louisiana.
The Word from Lansing Column: Respect Life Month
Each year, the U.S. Conference of Catholic Bishops (USCCB) develops and highlights a Respect Life Program for parishes and dioceses to use during the month of October. This month long program includes information and materials on topics such as abortion and its connection to poverty, advanced medical directives, and commercial surrogacy. MCC's The Word from Lansing column for October discusses the importance of this celebration of life and why all Catholics should stand up for the dignity of the human person. For more information on Respect Life Month, visit http://www.usccb.org/about/pro-life-activities/respect-life-program/
Reminder: Election Materials Available At MCC Website
With two weeks before the November 4th general election, it is important know the candidates and issues on the ballot. MCC's election website, www.micatholic.org/2014election [Link no longer available —Ed.], provides important information for voters on how to find their ballots, candidate survey responses from Attorney General and U.S. Congressional races, questions and positions to consider when voting, and many other helpful resources. In addition to visiting this website, please consider candidate and issue debates, campaign websites, and other statements or votes, through the lens of Catholic Social Teaching, to help with voting decisions.
If you haven't done so already, please join the Catholic Advocacy Network to receive regular public policy updates—including Lansing Update—via email.
If you haven't done so already, please join the Catholic Advocacy Network to receive regular public policy updates—including Lansing Update—via email. For other news and information, follow MCC on Twitter, like MCC on Facebook, or visit MCC's webpage.