Lansing Update: Action Needed to Help Nonpublic Schools
Posted September 29, 2023
Action Alert: Tell Lawmakers to Include Nonpublic School Kids in Expanded Meal Program
Michigan Catholic Conference (MCC) is urging members of the Catholic Advocacy Network to contact their state senator to include nonpublic school students in legislation that expands school meal programs. Currently, only students enrolled in public schools are eligible for the program.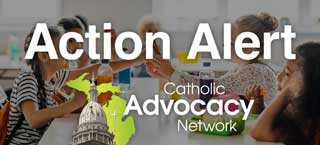 MCC, in partnership with the Michigan Association of Nonpublic Schools (MANS), is asking the Legislature to address the inequity created by Senate Bill 500, sponsored by Sen. Dayna Polehanki (D-Livonia).
The bill would make permanent an expansion of school meal programs to all students in schools that are participating in a federal breakfast and lunch program. The bill would make it so that every student in those participating schools — not just the ones that qualify due to family income — could have access to free meals in part to reduce the stigma students face in receiving free meals.
Unfortunately, while many nonpublic schools already participate in the existing federal breakfast and lunch program, they were left out of this meal program expansion, even though they would have qualified because they already participate in the federal program.
MCC and MANS testified before the Senate Education Committee last week, urging lawmakers to address this inequity. This week, the committee voted to advance the bill to the Senate floor without making changes to include nonpublic school students.
However, there has been interest expressed by lawmakers on both sides of the aisle to change the bill to include nonpublic schools. Therefore, it is important that your state senator hears from you to help make that happen.
Click or tap here to send a message to your state senator to urge he or she to support nonpublic school students in Senate Bill 500. Already, more than 600 messages have been sent to senators from nonpublic school leaders and staff who have responded to the alert.
Thank you for your advocacy for our state's nonpublic schools — including Catholic schools — and for advocating for equity when it comes to state support toward ensuring all students receive healthy meals, regardless of where they go to school.
As Reproductive Health Act Stalls, Advocates Urged to Keep Pressure on Lawmakers
No movement happened in the Legislature this week on the Reproductive Health Act (RHA), after the dangerous, anti-woman package ran into public opposition from at least one key lawmaker.
The six bills that moved out of the House Health Policy committee tied to the RHA are still on the House floor. There is no indication as to when or if the Democratic majority will take up the bills. The caucus is currently one vote short of passing the package in the House due to Rep. Karen Whitsett's (D-Detroit) opposition to the bills.
As the RHA lingers on the House floor, it is crucial for Catholic advocates like you to continue contacting lawmakers to urge opposition to the bills. Legislative action can happen quickly, and both supporters and opponents of the RHA are using this time to reach out to lawmakers.
We need your help to urge your lawmakers to oppose the bill by sending them a message now. Once you do so, share this action alert with your family, friends, neighbors, and parishioners and more. To date more than 2,400 messages have been sent to members of the Legislature.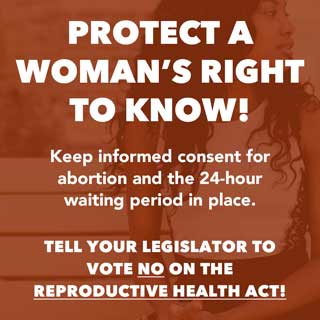 Religious Employers Not Exempted From Providing Contraception Coverage Under Bill
MCC this week expressed concern over state legislation that fails to exempt religious employers from having to pay for contraception services as part of their employee health plans, even though a religious exemption exists at the federal level.
House Bill 4623, along with several other bills moving through the Legislature, are intended to implement the federal Affordable Care Act (ACA) at the state level.
However, MCC noted in a memo submitted to the Senate Health Policy Committee that HB 4623 could implement certain provisions of the ACA without federal exemptions tied to the ACA that are already in place.
Notably, the state legislation does not include the federal exemption that protects entities from "establishing, maintaining, providing, offering, or arranging for… coverage or payments for some or all contraceptive services" contrary to entities' "sincerely held religious beliefs."
MCC said the federal exemption for religious employers has been upheld by the U.S. Supreme Court and that federal courts have been consistently clear that religious entities should not be compelled to act contrary to their faith.
Without the exemption in House Bill 4623, MCC warned that litigation with the state will likely be necessary to enforce Constitutional rights to religious liberty and those recognized by the federal exemption.
Unfortunately, House Bill 4623 was reported to the Senate floor without the requested changes this week. The bill — sponsored by Rep. Matt Koleszar (D-Plymouth) — has already passed the House and would only need approval from the Senate to be sent to the Governor for her signature.
Agencies Serving Runaway or Homeless Youth Get More Time to Contact Parents Under Bill
Agencies that serve homeless or runaway youth would be given more time to obtain parental consent to care for the children that come to them, under a pair of bills approved by a House committee this week with MCC support.
Together, House Bills 4085 and 4086 would require child caring institutions to get parental or guardian consent within 72 hours to continue providing services to homeless or runaway youth, up from the 24-hour requirement.
The goal of this change is to give agencies that serve this population more time to acquire parental consent while providing youth with interim services. If parental consent is not obtained in that time, the agency typically must call Child Protective Services or the police.
Under the bills, homeless youth refer to children who cannot live in a safe environment with a relative and who have no other safe alternative living arrangement. A runaway youth is a child who leaves their place of residence without their parents' or guardians' permission.
The legislation was approved by the House Children, Families, and Seniors Committee and is now on the House floor for further consideration.
MCC Supporting Many Bills to Revamp State's Juvenile Justice System
A Senate committee this week moved a large package of bills intended to improve the state's juvenile justice system, many of which earned MCC support.
The Senate Civil Rights, Judiciary, and Public Safety Committee advanced both Senate and House legislation that together implement recommendations from a state-convened task force dedicated to improving the juvenile justice system. MCC is supporting these bills in the interest of promoting restorative justice practices for juvenile offenders and their families.
MCC has previously reported on some of these bills, including a portion of the package that would remove unnecessary fees assessed on juvenile offenders and their families. Here is a rundown on the bills that received MCC support and what they do:
Senate Bill 418 and House Bill 4624

Increase the state's reimbursement to counties to provide community-based services for juvenile offenders and allow counties to use these funds to provide pre-arrest diversion services, which will help counties work toward rehabilitating youth and not just sending them to jail.

Senate Bill 424 and House Bill 4630

Expand Michigan's Indigent Defense Commission Act duties to include indigent defense of youth to help in securing better public defense of juvenile offenders statewide.

Senate Bill 425 and House Bill 4631

Require the Appellate Defender Commission to create a system of appellate defense services for indigent youth.

Senate Bill 426 and House Bill 4632

Allow the state to adjust the per diem rates for juvenile justice residential facilities to address issues such as bed shortages and staff retention.

Senate Bill 427 and House Bill 4633

Broaden the factors considered by courts before waiving a juvenile offender into the adult criminal justice system.

Senate Bills 428–431

Eliminate most fines and fees for juveniles that are not related to restitution and the Crime Victims Fund.

Senate Bills 432–437

Replace the state's Office of the Child Ombudsman with a new Office of the Child Advocate, which would take on the ombudsman job duties along with other responsibilities related to residential facilities and juvenile justice services.
More Protections for Crime Victims Under Bills Headed to Senate Floor
Crime victims could make their victim impact statements remotely and could have their faces blurred in certain court proceedings, under a series of bills designed to bolster crime victim protections.
A bipartisan legislative package that cleared the Senate Civil Rights, Judiciary, and Public Safety Committee this week would add to crime victim protections in state law.
MCC has previously offered support for these bills, which are House Bills 4420–4423. They now head to the Senate floor for further consideration.
Mass for Life Announced at Lansing Cathedral Prior to March for Life on November 8
As part of the activities connected to the first-ever statewide Michigan March for Life, Catholics are invited to attend a Mass for Life at St. Mary Cathedral on the morning of the March.
The Mass will begin at 9:30 a.m. on November 8 and will be celebrated by Lansing Bishop Earl Boyea. It is anticipated that the Cathedral will completely fill up, so pre-registration is required. To do so, please click or tap here.
A pre-rally concert will begin at the Capitol at 10 a.m., followed by the rally at 11 a.m. and the March at noon.
If you are looking for a ride to Lansing for the march, click or tap here to see if any buses are leaving from your area.
If you are organizing a bus, it is required you register with March for Life so a parking spot can be ensured. Click or tap here to do that if you have not already.
Finally, if you or your group is traveling a long distance for the March, there may be overnight lodging available at the St. Francis Retreat Center in Dewitt.
If you have not already, make your plan to attend the March for Life on November 8 or inquire at your parish about plans to attend.
New Auxiliary Bishop Named for Archdiocese Is a Detroit Native
Michigan's newest bishop is Bishop Jeffrey M. Monforton, who was named by Pope Francis as the 32nd auxiliary bishop for the Archdiocese of Detroit in an announcement this week.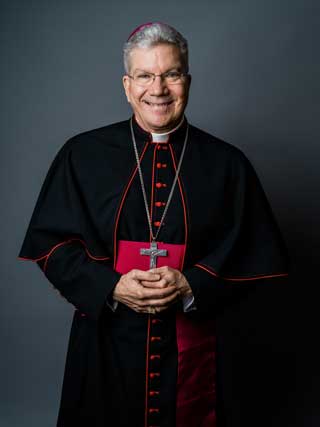 Bishop Monforton was most recently bishop of the Diocese of Steubenville, Ohio. Bishop Monforton was born and raised in Detroit and ordained a priest of the Archdiocese by Archbishop Adam Maida in 1994.
Bishop Monforton's assignments in the Archdiocese included the National Shrine of the Little Flower in Royal Oak, St. Paul on the Lake in Grosse Pointe Farms, St. Jane Frances de Chantal in Sterling Heights, St. Therese of Lisieux Church in Shelby Township, and St. Andrew in Rochester.
The new auxiliary bishop will be welcomed to the Archdiocese at a Liturgy of Welcome and Inauguration of Ministry at 2 p.m. Nov. 7, at the Cathedral of the Most Blessed Sacrament in Detroit.
In related news, Bishop Emeritus Paul Bradley — recently retired as the bishop of the Diocese of Kalamazoo — was appointed by Pope Francis to serve as Apostolic Administrator of the Diocese of Steubenville.
Call on the Help of the Archangels Michael, Gabriel and Raphael Today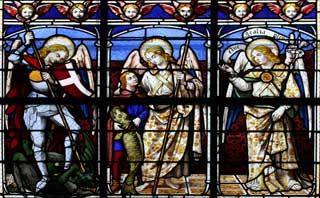 Today the Church celebrates the Feast of Archangels in recognition of the three angels who are named in Scripture: St. Michael, St. Gabriel and St. Raphael. Here is a prayer invoking their intercession for help in our daily lives:
Heavenly King, You have given us archangels
to assist us during our pilgrimage on earth.
sSaint Michael is our protector;
I ask him to come to my aid,
fight for all my loved ones,
and protect us from danger.
Saint Gabriel is a messenger of the Good News;
I ask him to help me
clearly hear Your voice
and to teach me the truth.
Saint Raphael is the healing angel;
I ask him to take my need for healing
and that of everyone I know,
lift it up to Your throne of grace
and deliver back to us the gift of recovery.
Help us, O Lord,
to realize more fully the reality of the archangels
and their desire to serve us.
Holy angels,
pray for us.
Amen.