Lansing Update: MCC Urging Religious Protections in Civil Rights Bill and more…
Posted February 10, 2023
In this update:
MCC Urges Religious Protections for Civil Rights Bill; Offers 'Olive Branch' to Bill Supporters
Every state that has expanded its civil rights laws to include sexual orientation and gender identity has included religious protections within the law. But Michigan would not be among those states if pending legislation to expand the state's civil rights act is signed into law as is.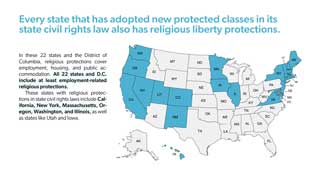 Michigan Catholic Conference (MCC) this week urged a Senate committee to include protections for religious organizations in a bill to expand the state Elliott-Larsen Civil Rights Act, (ELCRA) and MCC has offered to continue working with members on finding common ground on language to do so.
However, the Democratic majority on the Senate Civil Rights, Judiciary and Public Safety Committee did not include any religious protections when they voted to advance Senate Bill 4 to the Senate floor for further consideration.
Tom Hickson, MCC Vice President for Public Policy & Advocacy, testified in committee that the bill in its current form would mean more "religious or non-profit groups will be taken into state court and possibly held liable because of their sincerely held and long-standing religious beliefs about marriage."
The language of Senate Bill 4, sponsored by Sen. Jeremy Moss (D-Southfield), does not contain protections to ensure faith-based organizations or people with deeply held religious beliefs will not be discriminated against because of their beliefs that marriage is between one man or one woman or that men and women are biologically different from each other.
Without those religious protections, the legislation would set up scenarios where faith-based institutions would be faced with either hiring a job applicant who does not hold to those beliefs or refusing to hire that job applicant and then being held liable for discrimination, for example.
"Let's avoid what we believe will take place if this legislation is signed into law without religious protections, that more religious or nonprofit groups will be taken into state court and possibly held liable because of their sincerely held and long-standing religious beliefs about marriage," Hickson said in his testimony.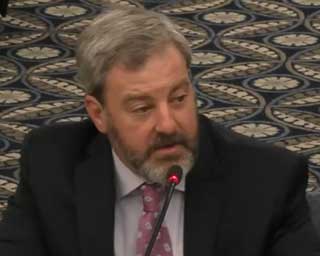 Last summer, the Michigan Supreme Court ruled the word "sex" in ELCRA includes sexual orientation and gender identity in the law's prohibition on discrimination. At the time, MCC said the decision in the Rouch World case would present constitutional problems for people of faith and place in jeopardy religious persons and entities who wish to serve others in the public square.
The ruling did not provide religious protections to accompany that expansion of the ELCRA, and since then, at least three federal lawsuits have been filed arguing the ruling would violate First Amendment rights of institutions like Catholic schools and a Christian health provider. Among those lawsuits filed are from St. Joseph Parish in the Diocese of Lansing and Sacred Heart of Jesus Parish in the Diocese of Grand Rapids.
MCC has presented research to lawmakers indicating that all 22 states that have expanded their civil rights laws to include sexual orientation and gender identity have also included religious protections, including such states as California and New York, which also have Democratic legislative majorities.
However, with the committee's vote to move Senate Bill 4 forward without changes this week, MCC noted in a statement afterward that "Michigan appears to be going in an opposite and unprecedented direction."
"We strongly believe Michigan should include protections for religious organizations in Senate Bill 4 to avoid faith-based organizations, particularly those who believe marriage is between a man and a woman, from being targeted for litigation," Hickson said in a statement released after the committee vote. "We will try to find common ground on this topic. We have offered an olive branch to supporters of Senate Bill 4 and look forward to continued conversation on the Senate floor."
Governor Presents Her Budget Priorities for Next Fiscal Year
Gov. Gretchen Whitmer this week announced her proposals for how to set the next state budget that goes into effect Oct. 1. The Legislature over the next few months will present its own spending ideas, culminating in a finished product that is supposed to be sent to the Governor no later than July 1.
Among the Governor's highlighted budget proposals included a plan to fund breakfast and lunch for all public K-12 students, and continued expansion of preschool funding toward an eventual goal of universal preschool for all four-year-olds. Altogether, the Governor's budget proposes $79 billion in funding.
MCC staff each year analyze and track various spending items proposed for the budget that pertain to MCC's advocacy principles and of interest to the Church. Based on the Governor's initial proposals, here are some of the spending items MCC staff have highlighted:
---
Governor's Budget Preserves Several Important Safety Net Programs for the Poor
Gov. Whitmer's budget plan keeps intact several human services-related spending items that serve the poor and vulnerable of our state.
The Governor retained $4.4 million from last year's budget for providing diaper assistance grants to nonprofits to provide diapers to moms in need.
The plan also allocates $50,000 for the foster care closet program, which allows children and foster families in need to shop for clothing, shoes, toys, linens, nursery furniture, strollers, car seats, school supplies, hygiene products, and safety equipment free of charge.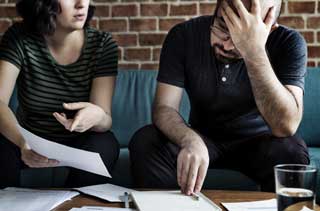 The budget also provides $50,000 for caseworkers to provide immediate assistance to children who are removed from dangerous environments. An additional three months of food assistance for victims of domestic violence or human trafficking is part of the plan, as is $200,000 for human trafficking intervention services.
The Governor is also maintaining the current clothing allowance for children in need, the foster care rate that funds child-placing agencies like Catholic Charities, the Heat and Eat program that helps low-income residents — including elderly and persons with disabilities — receive additional food assistance, and state support of homeless shelters.
At this point, previous language that barred the state contracting with organizations that provide elective abortions has been taken out, along with language that prohibited state dollars from being used for abortion counseling, referrals, or services.
---
Some Wins; Some Setbacks for Nonpublic Education Support
Gov. Whitmer's proposal retained several funding streams to aid nonpublic schools, such as $18 million in per-pupil funding to nonpublic schools for school safety and $3 million for nonpublic high school students to obtain college credits through dual enrollment opportunities.
The budget plan does not change access to shared time for nonpublic students, which allows a nonpublic student to enroll in "non-essential" elective courses at a public school and be considered a part-time pupil in the public school for state aid purposes.
The plan also keeps funding at current levels for the Tuition Grant Program and Tuition Incentive Program, which assist low-income students attend private colleges and universities in Michigan.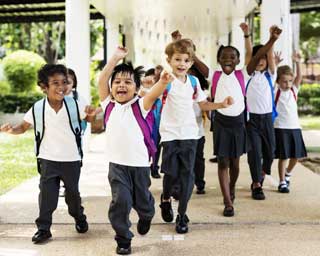 Further, the budget keeps open Michigan Achievement Scholarships to nonpublic school graduates, and the scholarships can be used at private and public colleges. The scholarship offers up to $2,750 a year for students attending community colleges, $5,500 a year for public university students and $4,000 a year for private university eligible students who graduate high school.
However, the Governor's initial plan does not include funding to reimburse nonpublic schools with complying with state mandates, nor were nonpublic schools included in funding for robotics programs.
Two programs intended to increase the number of teachers in Michigan include students who attend private teacher prep programs, but inhibits their ability to go on and teach in a private school afterward.
In the $50 million set aside for the Student Teacher Stipend Program, it provides up to $9,600 per semester to be made available to students attending teacher preparation programs at public or private colleges in Michigan. But the student must then student-teach in a public school and then teach two years in a public school for each year they received funding to avoid repaying the scholarship.
As for the $25 million for the Michigan Future Educator Fellowship, it provides up to $10,000 per year for first‐time degree seekers and career changers. Students must attend public or private institutions of higher education, and the fellowship would be repaid if the student does not subsequently teach at a public school, meaning the Governor eliminated teaching at a nonpublic school as a qualifying option, which was allowed in the first year of this program.
Finally, requirements for higher education institutions to report on their stem cell research were eliminated, as was a requirement that public schools have a discipline policy for teachers who refer students to abortion.
Expanded Tax Relief for Working Poor Inches Closer to Completion
A broader tax relief bill that contains the MCC-supported increase to the state's Earned Income Tax Credit (EITC) passed the House this week and is headed for the Senate next.
Last week, MCC reported that legislative proposals in both the House and Senate to increase the state EITC to 30% of the federal credit had been rolled into a tax relief package that would also exempt more retirement income from taxation.
That plan — which now includes the Governor's plan to give every tax filer in the state a $180 "inflation relief" check — has been incorporated into House Bill 4001. After a joint conference committee signed off on the bill, it then passed the House on Thursday, but it has not been voted on in the Senate yet.
MCC will continue to monitor the movement of House Bill 4001 as it contains the expanded EITC, a policy MCC has been advocating for the past two sessions in keeping with MCC's long-running support for the EITC and its help for the working poor.