News Release: MCC Comments on End of Statewide Petition Drive to Prohibit Dismemberment Abortion Procedure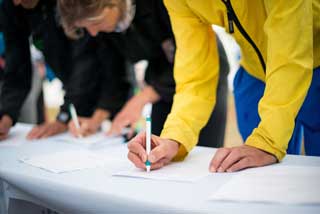 FOR IMMEDIATE RELEASE
July 21, 2020
(Lansing, Mich.) — Earlier today Right to Life of Michigan announced that it is ending its effort to place citizen-initiated legislation before the Michigan House of Representatives and State Senate that would prohibit the second trimester dismemberment abortion procedure due to an insufficient number of valid signatures. Commenting on today's development is Rebecca Mastee, J.D., policy advocate for Michigan Catholic Conference:
"It goes without saying that after countless hours and with myriad people volunteering at hundreds of Catholic parishes across the state to collect signatures that this outcome is disappointing. Each and every person who assisted in this petition drive is cherished and thanked. We have incredible gratitude for their pro-life dedication and the tremendous effort to raise awareness while gathering signatures. Saint Teresa of Calcutta taught us that God does not require us always to be successful, but rather to be faithful; indeed, the effort to protect human life through this petition drive was immense. Despite this setback, the drive to protect unborn human life will continue in earnest. Women and children deserve better."
Michigan Catholic Conference is the official public policy voice of the Catholic Church in this state.
-- 30 --