News Release: MCC Comments on Final Fiscal Year 2022 State Budget
Despite Vetoes, MCC Welcomes Budget Provisions to Assist Low-Income, Vulnerable Residents of the State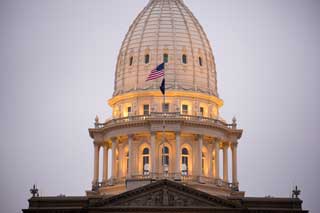 FOR IMMEDIATE RELEASE
September 29, 2021
(Lansing, Mich.) — Michigan Governor Gretchen Whitmer has vetoed several funding policies that would protect the life of unborn children, including a relatively mere $700,000 for a policy to provide pregnant mothers in need with a full range of wrap-around services for her and her child before and after birth. The vetoes are part of a final 2022 state budget that otherwise includes provisions Michigan Catholic Conferences finds helpful in the areas of adoption and foster care and support for low-income and vulnerable persons in the state. The following comments may be attributed to David Maluchnik, Vice President for Communications at Michigan Catholic Conference:
"Governor Whitmer's vetoes amplify the disappointing reality of this administration that the abortion industry is more important than vulnerable mothers and their unborn children. Whitmer has now twice vetoed state funding that ensures mothers in difficult pregnancies receive material, emotional, and well-being support during their pregnancy and through the child's first year. In light of Gov. Whitmer's vetoes, the pro-life community and all persons of goodwill should be strengthened both in spirit and in heart to pray and work harder than before to protect life from the time of conception all the way through every child's adult and elderly years.

"While prioritizing concerns with the vetoes, Michigan Catholic Conference remains grateful for the legislature's and administration's support for increased administrative funding for foster care providers and per diem rates for adoption agencies, human trafficking victim services, funding to maintain the annual clothing allowance for low-income children in the Family Independence Program, as well as funding to maintain the 'Heat and Eat' program and to implement the 'Raise the Age' policy.

"Whereas the state budget is a moral statement that reflects the priorities of the state, MCC works to support fiscal policies that care for and protect life in all its phases, including and especially the unborn. As an advocacy organization that represents the Catholic bishops in this state, Michigan Catholic Conference will continue to prioritize the dignity and sanctity of all human life from conception through natural death in all elements of public policy."
Michigan Catholic Conference is the official public policy voice of the Catholic Church in this state.
-- 30 --