News Release: Peace and Civility Urged Prior to Supreme Court Ruling in Dobbs Case
Ongoing Violence and Destruction Toward Churches and Pro-Life People Must End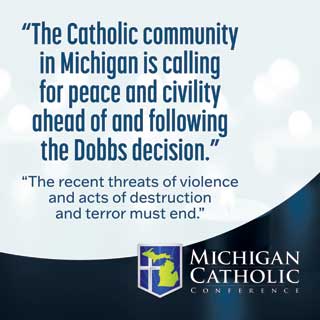 FOR IMMEDIATE RELEASE
June 23, 2022
(Lansing, Mich.) — Michigan Catholic Conference (MCC) is urging state authorities and elected officials from both parties to take note of recent violence toward religious communities and pro-life organizations at a time when extremist organizations are promoting violence and riots should the U.S. Supreme Court overturn Roe v. Wade.
"The Catholic community in Michigan is calling for peace and civility ahead of and following the Dobbs decision," said MCC President and CEO Paul A. Long. "State and local authorities should be on alert and ready to protect individuals and property should violence or acts of terror occur before and following release of the Dobbs ruling. We believe it is possible that extremist or incendiary responses from lawmakers or advocacy groups to a decision that overturns Roe will only incite violence and destruction, perhaps even the loss of life."
Since February 2022, extremists and violent organizations have begun to commit acts of destruction and are calling for more violence should the Court overturn Roe. Both nationally and in the state of Michigan, those include:
MCC is appreciative of comments from Governor Whitmer in May 2020, where the governor used her office to encourage peace and condemn violence amid an unsettling time in the state: According to Michigan Radio, the governor said: "But it is the threat of violence that is beyond the pale, that is unacceptable, that is undemocratic, that is un-American, frankly. We all have our right to speech, but none of us has the right to endanger other people. Because it would be a terrible travesty if someone got hurt in this already tough, stressful moment in our state and in our nation."
"The recent threats of violence and acts of destruction and terror must end," said Long. "We are calling for local and state authorities to be attentive to these threats and to ensure all people remain safe and protected. We also encourage elected officials to condemn specifically and discourage violent acts, as officials on both sides of the aisle have a role to play and should be mindful of how their words and comments can lead either to peace or violence."
Michigan Catholic Conference is the official public policy voice of the Catholic Church in this state.
-- 30 --