News Release: MCC Applauds U.S. Supreme Court Ruling in Carson Case
Michigan's Blaine Amendment Continues to Fail Parents and Students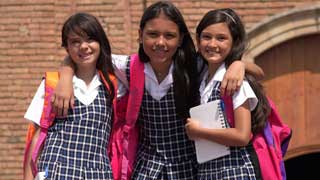 FOR IMMEDIATE RELEASE
June 21, 2022
(Lansing, Mich.) — The U.S. Supreme Court ruled today in Carson v. Makin that the State of Maine's refusal to provide funds for students to attend schools that provide religious instruction violates the Constitution. According to the ruling, the state must allow for students to use funds at religious schools because the state provides funds for students to attend private, non-religious schools. Michigan Catholic Conference offered the following comments in response to the Carson decision, which holds that the Maine program violates the free exercise clause. The comments may be attributed to MCC Policy Advocate Paul Stankewitz.
"Once again, the highest court in the land has said 'no' to the contention that the government — rather than parents — knows what type of school is best for children. A wide range of educational options should be encouraged by the state and federal government, without penalty for those families who choose a nongovernmental school for their children.

"Today's Carson decision leaves Michigan as one of the few states remaining with severe and discriminatory constitutional restrictions against educational choice, particularly aid to nonpublic schools.

"While today's ruling requires further examination for any potential impact on this state, it does bring us closer to the day when families in all 50 states have access to full educational choice."
Michigan's education policy is still very much impacted by 19th Century U.S. Representative James G. Blaine, whose anti-Catholic views were successful in preventing the use of public funds for Catholic schools in states across the country. Article 8, Sec. 2 of the Michigan Constitution — otherwise known as a "Blaine Amendment" — prohibits the state from enacting policies such as vouchers, tax credits, or scholarship programs. In recent years, numerous states across the country together with a growing number of decisions from the U.S. Supreme Court have found that state aid to religious schools is constitutional, with the effect of enhancing educational outcomes and opportunities for millions of primarily low-income children.
Michigan Catholic Conference is the official public policy voice of the Catholic Church in this state.
-- 30 --