News Release: Senate Committee Sides with Abortion Industry over Michigan Voters; Health and Safety of Women
RHA bills advance despite poll confirming strong opposition to repealing abortion limits
FOR IMMEDIATE RELEASE
October 17, 2023
(Lansing, Mich.) — Michigan Catholic Conference is urging state senators to stop and consider the health and safety of women as well as the voices of Michigan voters if they decide to take up the Reproductive Health Act (RHA), after a Senate committee voted today to move the extreme legislation to the Senate floor.
The Senate Housing and Human Services Committee approved on party-line votes several RHA bills even after new statewide polling released Monday by Lansing-based polling firm Marketing Resource Group (MRG) confirms most Michigan voters continue to support the policies the RHA would repeal.
The bills approved today include removing requirements that abortion clinics are licensed and inspected by the state, a regulation that 95% of Michigan voters support. The legislation would also end the 24-hour waiting period to provide women seeking abortion the right to know about the procedure through informed consent, a requirement supported by 72% of Michigan voters.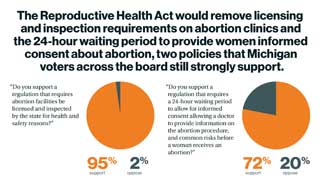 "Michigan voters continue to voice support for common-sense limits on abortion that protect the health and safety of the women who have an abortion," said Rebecca Mastee, J.D., policy advocate for Michigan Catholic Conference. "The RHA would repeal these protections to the detriment of Michigan women. Lawmakers who support this package stand against the will of Michigan voters, including those who voted for Proposal 3."
MRG's polling includes 55% of people who said they voted in support of Proposal 3. Of those who voted yes, only 45% voted for the proposal because they favor abortion on demand. Nearly every Proposal 3 voter — 98% — support keeping licensing and inspections for abortion clinics and 68% support keeping the 24-hour waiting period for informed consent.
The results of the October poll commissioned by Michigan Catholic Conference and Right to Life of Michigan mirrored the results of a previous MRG poll that contained similar questions on abortion policies.
"Lawmakers on both sides of the aisle should come together to stand against the abortion industry's demands and reject the RHA," Mastee said. "Polling data from back in the spring and now nearly one year after the passage of Proposal 3 show that residents across Michigan are consistently opposed to the policies included in the extreme RHA package."
The legislation approved by the committee — Senate Bills 474 through 477 and Senate Bill 593 — is now on the Senate floor for consideration. The House version of the RHA package is still pending on the House floor.
Michigan Catholic Conference is the official public policy voice of the Catholic Church in this state.
-- 30 --