The Word from Lansing: Practicing Mercy in the State Budget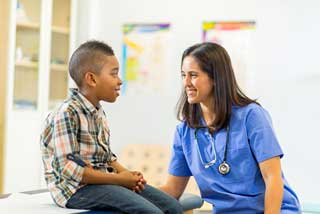 Posted March 18, 2016
This Year of Mercy is an opportunity to reflect on the teachings of Jesus, emphasizing the importance of serving others with compassion. In Matthew 25:40, Jesus says to his disciples, "whatever you did for one of these least brothers of mine, you did for me." His teaching has wide implications, as each person has a role to play in caring for one another.
State budget discussions began in February when Governor Rick Snyder presented recommendations for Fiscal Year 2017 (October 2016–September 2017). Legislators now face the difficult responsibility of determining where the state's limited resources should go. They also have the responsibility to be good stewards of these resources, protecting citizens against unnecessary spending and debt. At the same time, state government has an obligation to "the least of these," providing basic levels of funding to help those most in need. As lawmakers examine various spending proposals, Catholic social teaching can offer helpful reflections.
Give drink to the thirsty. Pope Francis wrote in Laudato Si that access to safe drinking water "is a basic and universal human right." In certain areas of Flint, however, lead contamination in the water has hindered this access. State and local government are working to help those exposed to lead, now and in the future. Budget recommendations call for millions more for bottled water and water testing, initiatives for children with high blood lead levels, the replacement of lead service lines, and the inspection and replacement of plumbing fixtures in Michigan schools. It is critical that all people and all schools, public and non-public, are included in these solutions. At the same time, individuals and organizations have mobilized during the crisis. Locally, agencies such as Catholic Charities of Shiawassee and Genesee Counties and the St. Luke New Life Center are serving as distribution sites for bottled water and assistance. This multi-faceted approach is critical to meeting Flint's immediate needs.
Clothe the naked. Policies such as the Children's Clothing Allowance, alongside the work carried out by non-profits and individuals, help low-income families in Michigan. The clothing allowance ensures students have warm and well-fitting clothing for the school year, especially during the state's harsh winter months. In the upcoming budget, Governor Snyder has proposed increasing the amount provided per child for this policy and expanding eligibility to 25,000 more children.
Accompany those in difficult situations. For several years, lawmakers have supported the Pregnancy and Parenting Support Program. This program provides pregnant women with alternatives to abortion such as counseling, parenting classes, adoption information, and material support like formula, diapers, and clothing. This policy focuses on the vulnerable and should be preserved. Other budget programs also seek to empower those who are struggling, such as the Tuition Grant and Tuition Incentive Programs for low-income students. Careful attention will also be paid to the Detroit public school district, as the district's $500 million debt diverts funding away from kids in the classroom.
Serve the poor and heal the sick. The Healthy Kids Dental program has served low-income children for many years. This year, lawmakers will consider expanding the program so children in all 83 Michigan counties have access to dental care. Other budget areas also provide greater health care access for individuals in need, including the Healthy Michigan program. Since April 2014, over 600,000 people have qualified for access.
During this budget season, lawmakers face tough decisions about funding programs as well as responsibly managing the state's resources. Michigan Catholic Conference believes and advocates for necessary programs that impact human life, the most vulnerable, and the common good.
As citizens, we must also recognize our own responsibility. The Church teaches that issues can be addressed at the appropriate level of society, not just by state government. Let us all work to see what more we can do for the least of these, during budget season and throughout this Year of Mercy.