The Word from Lansing: Encountering the Poor This Advent and Beyond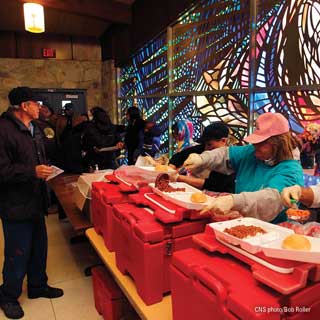 Posted December 15, 2017
During these weeks of Advent, the Catholic Church has drawn significant attention to those in need. Within parishes, individuals have gathered food for holiday baskets, purchased gift items for Giving Trees and donation bins, and collected warm coats for the winter. Other Catholic groups and organizations have found similar ways to serve those who are struggling, such as visiting the homebound and the sick, assisting refugee families in their adjustment to a new community, and providing basic care items to pregnancy centers and homeless shelters. Each of these efforts helps to meet immediate neighborhood and community needs, allowing individuals to feel cared for during this special season.
While Michiganders and their families have been planning their holiday celebrations—traveling and hosting, preparing and eating food, giving and receiving gifts—volunteer ministries remind us that not all enjoy the same opportunities at Christmas. These ministries help people of faith see the needs of others, as Jesus did, as well as the conditions that contribute to those needs.
Pope Francis challenges Catholics not to be satisfied with the state of poverty in their midst, both during the Christmas season and throughout the year. On November 19, the Holy Father instituted and celebrated the first annual World Day of the Poor. In this celebration, he called for the faithful to be present with those in poverty and to transform how they think about the neglected among us. The poor are not "simply as the beneficiaries of our occasional volunteer work" or "impromptu acts of generosity that appease our conscience." Instead, the poor are real people to interact with in our communities. Volunteer activities present opportunities for conversation with these persons, who are often pushed to the margins of society.
Catholics are called to hear the stories of those in poverty and to learn from their example. The poor "show us in a quiet and often joyful ways," Pope Francis points out, "how essential it is to live simply and to abandon ourselves to God's providence." In other words, they remind us to avoid attachment to material goods and instead, to trust and rely on God. Their stories also challenge people of faith to look beyond stereotypes and to examine the circumstances that contributed to their struggles.
The Catholic Church teaches for all to respond to immediate needs with charitable works, such as those listed in the Gospel of Matthew, Chapter 25: feeding the hungry, clothing the naked, caring for and healing the sick, and visiting those in prison. At the same time, Catholics are called to address the root causes of problems facing our communities, advocating for public policies that benefit the common good and working to change the social structures that promote injustice (learn more). Together, these actions of charity and justice, informed by community needs, create a better world.
As Catholics, we should ask ourselves: what can be done about poverty? What can I do? And what roles do other institutions play, including the family, community and religious institutions, businesses, and the government? It is important both to examine how we can contribute to positive solutions and also to find ways that individuals impacted by poverty can be involved in the conversation.
As Pope Francis writes, "we are called, then, to draw near to the poor, to encounter them, to meet their gaze, to embrace them and to let them feel the warmth of love." Let us live this calling, both as Christmas approaches and long after our decorations are put away.