Lansing Update: Progressive Women Speak Against Prop 3
Posted October 14, 2022
In this update:
MCC Offers Support for Democrats for Life Press Event Against Proposal 3
Michigan Catholic Conference (MCC) staff showed up in support of a Democrats for Life of America press event this week featuring several left-leaning progressive women who spoke out against Proposal 3.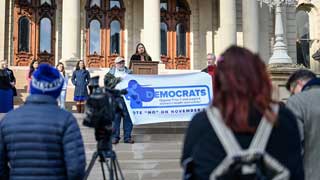 The press conference, held at the steps of the Michigan State Capitol, featured women from Michigan and elsewhere who spoke about how Proposal 3 would endanger the health and safety of vulnerable women and children by deregulating the abortion industry.
The speakers touched on many of the dangerous elements of the proposal, including how it would end parental consent rights, end health and safety regulations on abortion clinics, end restrictions on late-term abortions, and threaten the lives of prematurely born babies who need medical care.
"There's nothing progressive about what Prop 3 is proposing, which is to remove all safety regulations for abortion seekers. There's no progress in that," said Terrisa Bukovinac, president of the Progressive Anti-Abortion Uprising, who described herself as atheist, feminist, and leftist.
The event and its speakers and their various backgrounds demonstrated how opposition to Proposal 3 reaches across ideological and partisan divides because of how far it goes in deregulating abortion and undoing restrictions designed to protect women who do choose abortion.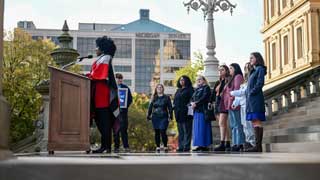 In addition to Bukovinac, speakers included Kristen Day, executive director of the national organization Democrats For Life; Sarah Burchart, the state chapter leader of Democrats for Life of Michigan; Monica Galloway, former Flint Councilwoman and president of the Michigan Municipal League; Lucy Moye, national chair of the American Solidarity Party; Kimberly Hill Knott, a former congressional candidate; and more.
In a press release statement, Christen Pollo, spokesperson for Citizens to Support MI Women and Children, said, "This gathering of progressive women show that regardless of how voters feel about the issue of abortion, Proposal 3 is extreme and should be rejected by all Michigan voters. Proposal 3 will make abortion more harmful and dangerous for women, making this truly an anti-woman proposal."
Democrats For Life is a national organization of Democrats who are pro-life for the whole life, and a coalition member of the No on Proposal 3 campaign.
State Prohibited from Passing Safety Regulations for Abortion Procedures Under Prop 3
The following is part of a seven-week statewide education campaign to inform Michigan Catholics about Proposal 3 and urge them to vote no on this unlimited expansion to abortion.
As part of that series, MCC will run a seven-part series breaking down the most concerning parts of the proposal. The articles were authored by John Bursch, a constitutional lawyer and former Michigan Solicitor General who represents MCC.
The following is part four of the seven-part series on Proposal 3:
Over the last three weeks, we've been covering some of the more startling provisions contained in Proposal 3 (the "Reproductive Freedom for All" proposal).

In addition to creating a state constitutional right to take the life of an innocent, unborn baby, the proposal's text authorizes minors to obtain abortions without parental consent or notification ("every individual" has the right), allows minors to obtain sterilization procedures without parental consent or notification (defines "reproductive freedom" to include "sterilization"), and permits mothers to take their child's life through nine months of pregnancy, provided that an abortionist says the abortion was necessary to protect the mother's "mental health," a truck-sized loophole.

In addition, Proposal 3 limits the state's power to pass prolife laws unless the law supports a "compelling state interest achieved by the least restrictive means." In the legal world, this standard is known as "strict scrutiny," and the government can almost never satisfy it. In fact, the U.S. Supreme Court rejected strict scrutiny as the appropriate standard for analyzing pro-life laws in Planned Parenthood v. Casey.

But Proposal 3 goes farther, defining a "compelling" state interest only as one "for the limited purpose of protecting the health of an individual seeking care." Incredibly, that means the state would be prohibited from passing a law to stop abortions based on the baby's sex, race, or disability, or even for the purpose of protecting the unborn baby's life!

And any such laws cannot interfere with the mother's "autonomous decision-making," replacing the familiar "informed consent" standard that applies to every medical procedure with a watered-down "voluntary consent" standard.

No matter how a voter feels about abortion, Michigan's Constitution should not be amended to prohibit the state from passing laws that protect innocent, unborn life or to pass safety regulations for abortion procedures that ensure mothers are fully informed before they choose to take their baby's life. Please tell everyone you know: vote "NO" on Proposal 3 on November 8th.
John Bursch is a constitutional lawyer and former Michigan Solicitor General. Through Alliance Defending Freedom, he represents the Michigan Catholic Conference and Right to Life of Michigan in court to uphold Michigan's pro-life laws.
Michigan's Bishops Issue Joint Letter to Catholic Homes Urging No Vote on Proposal 3
This week, a joint letter from the bishops who lead the seven Michigan dioceses was sent to more than 230,000 Catholic homes urging a no vote on Proposal 3.
In the letter, the bishops remind Michigan Catholics that "all human life is sacred and a gift from God" and that "the teachings of our faith regard the dignity of human life as the foundation of a moral society and the right to life as the fundamental right upon which all other human rights depend."
The bishops said that if Proposal 3 were to pass, there "would be no real limits on abortion or sterilization procedures in Michigan, outside of an individual's voluntary consent," and they note that "no matter how one feels about abortion, this proposed amendment goes well beyond what was allowed under Roe vs. Wade."
In addition to opposing Proposal 3, the bishops also again called "for your renewed dedication to supporting women in need who may find themselves involved in difficult pregnancies or crisis situations."
"With prayer, compassion and material support, the Catholic Church — through its agencies and lay faithful — must be willing to walk with women in need to support them, their children, and their families — before, during and after pregnancy," the letter stated.
The full copy of the letter can be read here.
A Roundup of Proposal 3 Resources
As a reminder, MCC's dedicated election website is where you can find digital versions of Proposal 3 resources, including our latest edition of FOCUS, a helpful graphic that helps answer the question of "where does it say that in the amendment," and the actual constitutional amendment proposal and the summary that will appear on the ballot, among other resources.
The website also offers the usual election year resources to help Catholics with how to approach voting for candidates and proposals as faithful citizens.
In addition to the above resources, we also want to pass along this "I Didn't Know" video, produced by Grace Lutheran in Coopersville that powerfully envisions what life could look like if Proposal 3 passes.